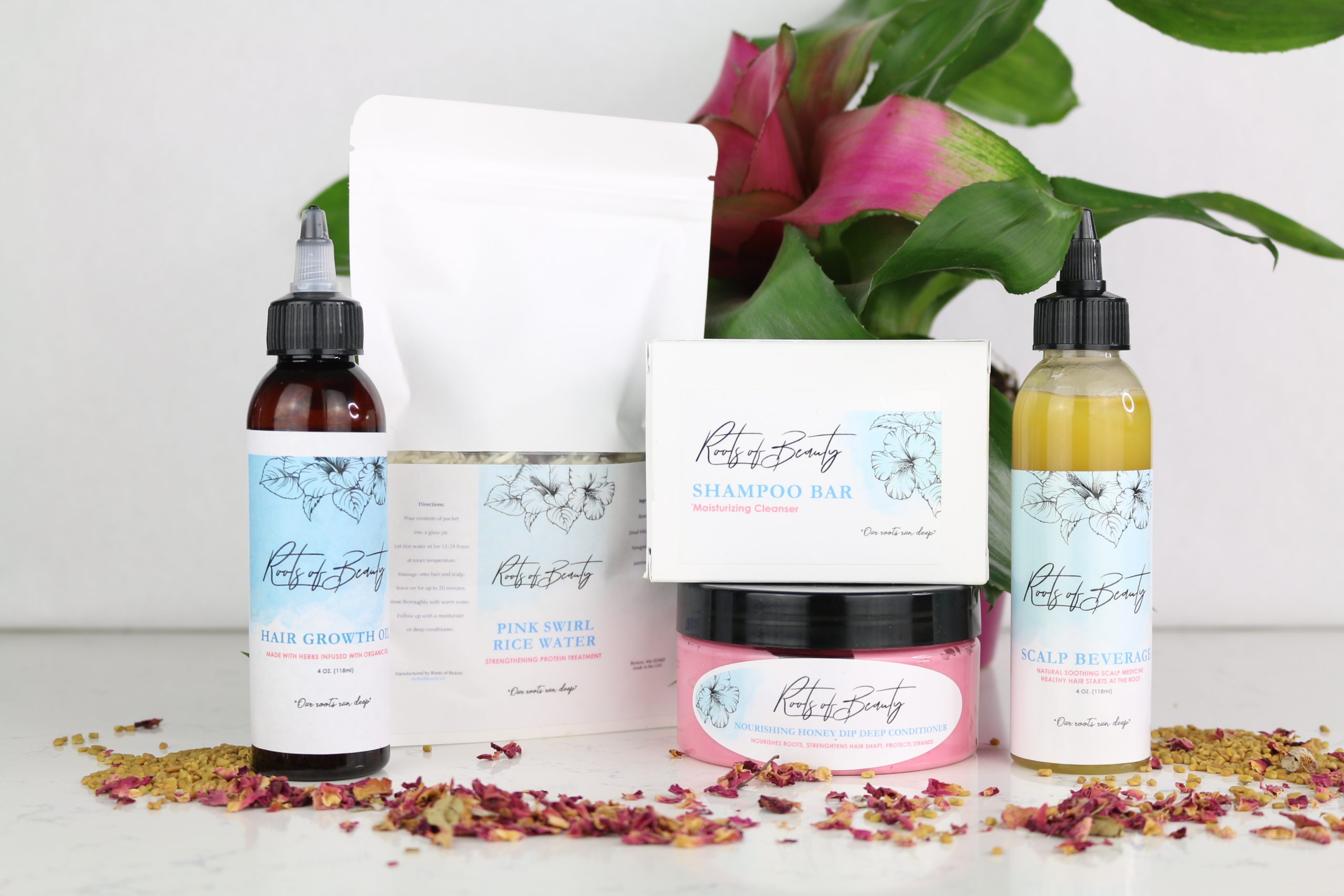 October 22, 2021
As stated in our mission statement, we aim to put out products that treat scalp conditions, strengthen hair follicles, and grow thick and healthy hair. We also aim to produce products with all-natural ingredients, free from toxic and harsh chemicals, and that are cruelty-free as well.
Roots of Beauty has five (5) main products that showcase the hard work of the company and what it stands for. In this post, we will be sharing with you the use of each product and when you should use them.
Shampoo Bar Moisturizing Cleanser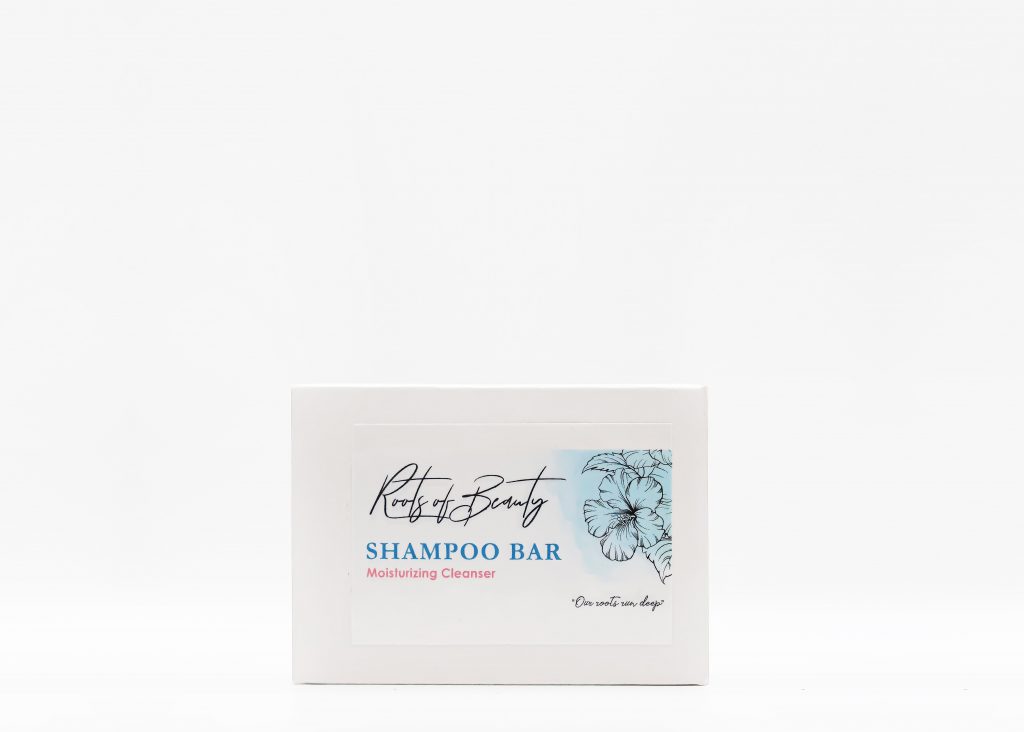 Our shampoo bar is one of our bestsellers and it is known for its gentle and effective performance. It has marshmallow root extract and African black soap in its ingredients which have anti-inflammatory effects that relieve skin irritation. It also promotes overall skin health. This product also contains grapeseed oil which is high in vitamin E and antioxidants that improve the condition of your hair and scalp. If you have dandruff, grapeseed oil helps loosen the dead skin from your scalp and restore moisture to it. 
The Roots of Beauty Shampoo Bar is great for those who have a dry and itchy scalp. It's a great alternative to commercial shampoos because it does not only provide the nourishment your damaged hair needs, it's also a more environmental-friendly product to use because you won't be dealing with plastic containers that you throw away after finishing the product anymore. Moreover, the shampoo bar moisturizes your hair and does not cause hair tangles. It's an overall great product that all our clients love.
Nourishing Honey Dip Deep Conditioner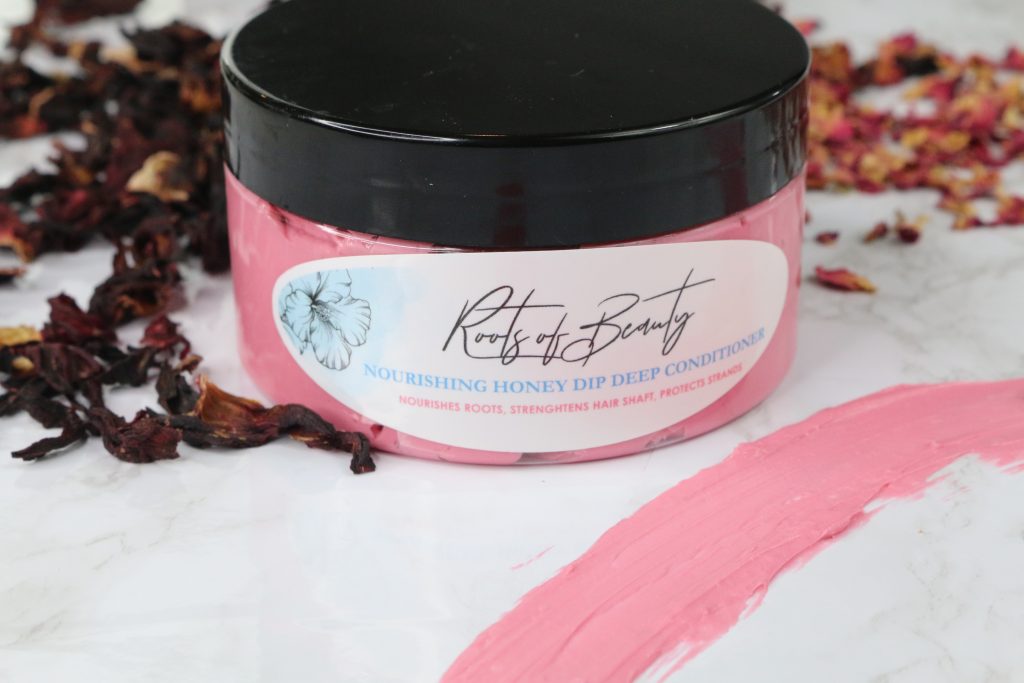 Deep conditioners are for hydration, softening, and providing nutrients to damaged hair caused by heat and harsh treatments. Deep conditioning is important especially during cold weather because that's the time when our hair loses moisture. 
What's great about our product is it's formulated with all-natural ingredients and it does not contain parabens, sulfates, mineral oils, or formaldehyde. It has all-natural goodness including aloe vera, marshmallow root, avocado oil, and more. 
Aloe vera is a well-known ingredient known for calming itchy scalp, cleaning oily hair, strengthening and repairing hair strands, and promoting hair growth. 
Avocado oil contains vitamins, minerals, and antioxidants that help keep hair strong and healthy. It reduces dandruff, prevents breakage, helps detangle hair, and protects hair from further damage. 
This product is effective in penetrating the hair shaft, protecting hair cuticles, and strengthening and moisturizing the hair and it's recommended for everyone who has damaged hair.
Scalp Beverage Natural Soothing Scalp Medicine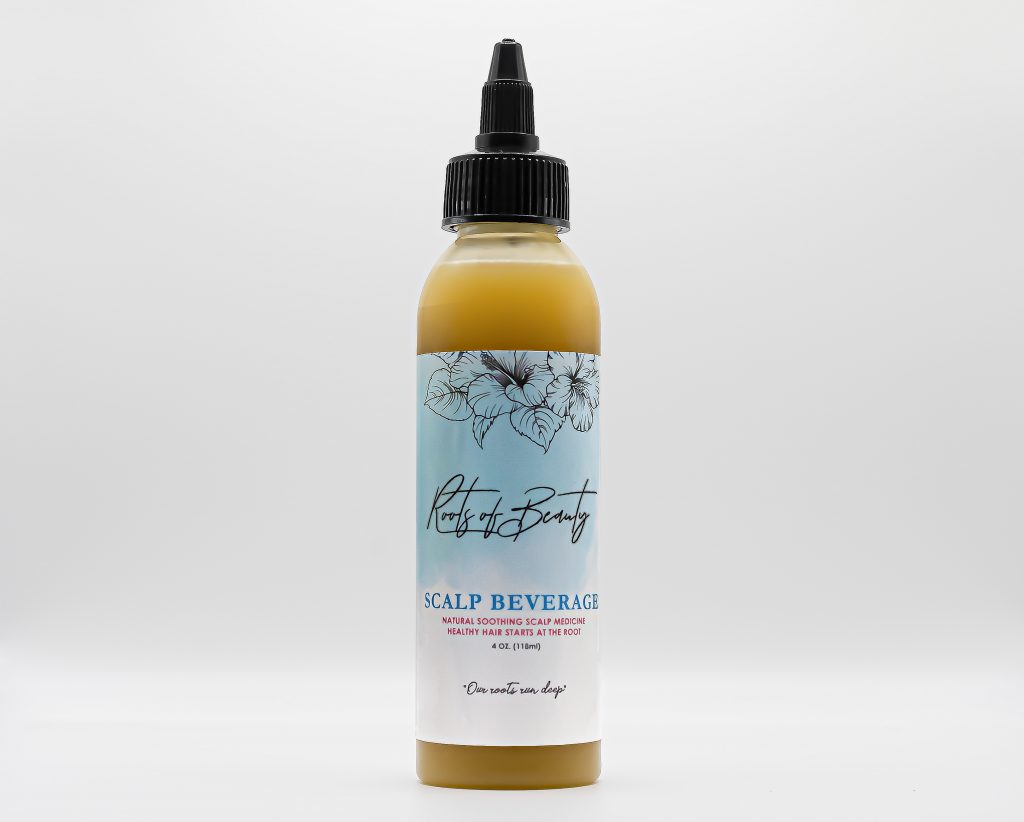 Another one of our bestsellers is the Roots of Beauty Scalp Beverage and it is great for dry, itchy, and inflamed scalp. It is also recommended for those who are suffering from alopecia. It contains jojoba oil, grapeseed oil, aloe vera, and other essential oils that are good for the hair.  
Jojoba oil is a great moisturizer that is rich in vitamin C, B, E, copper, and zinc. It is usually added to hair products for added protection against breakage, dryness, and split ends. Jojoba oil is great for strengthening hair and it can prevent hair loss and promote hair thickness.
Essential oils like lavender are good for the hair as it promotes hair growth, curbs skin inflammation, and gives off natural fragrance. It is also antimicrobial and can help prevent and kill head lice. Rosemary essential oil has anti-inflammatory properties, it also promotes nerve growth, and improves circulation. It also improves hair growth, prevents graying and dandruff, and helps relieve dry and itchy scalp. 
The Scalp Beverage is made up of natural goodness that the hair will gratefully drink up. 
Hair Growth Oil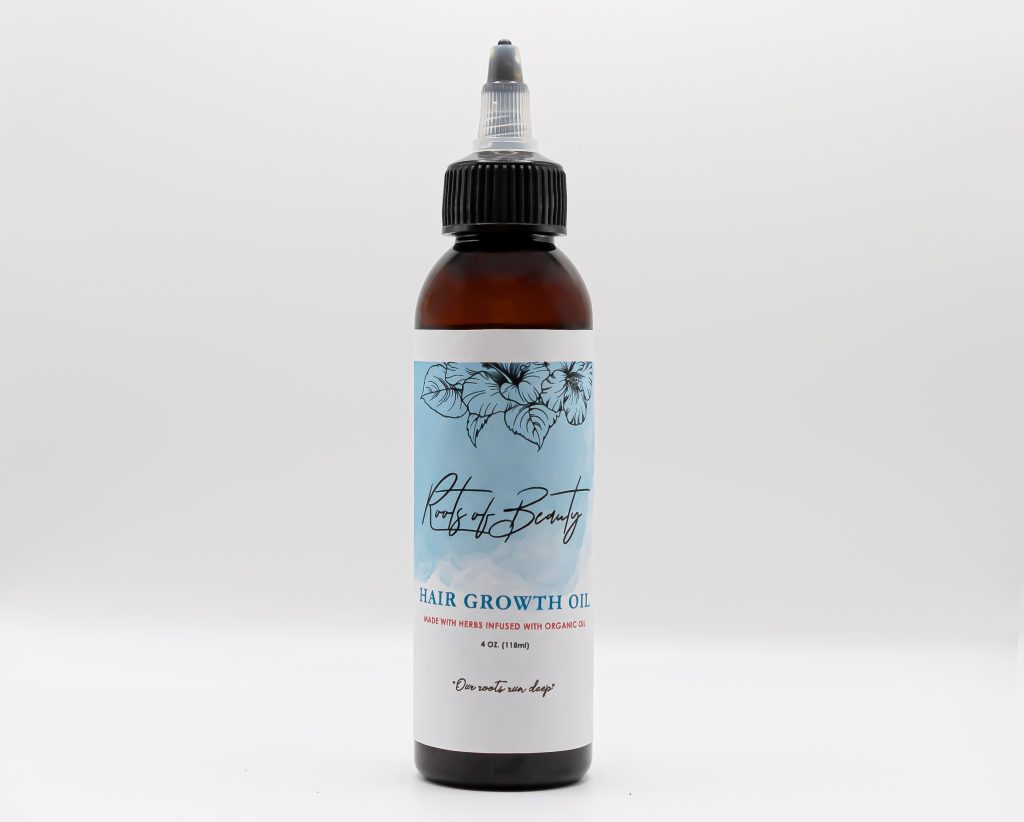 The Roots of Beauty Hair Growth Oil is popular among men who have thinning hairlines and bald patches. This product contains jojoba oil, black castor oil, grapeseed oil, coffee extracts, fenugreek seed extracts, and essential oils. It is massaged on the scalp or used as a hot oil treatment. 
Black Castor Oil contains high amounts of ricinoleic acid which is an omega-9 fatty acid that's antioxidant, antimicrobial, and anti-inflammatory. This oil is utilized for hair growth and is used as a moisturizer. 
Fenugreek seeds are usually used as a home remedy for thinning hair and for treating dandruff and itchy scalp. It is rich in iron and protein which are essential nutrients for hair growth. Fenugreek also treats conditions that lead to dry, irritated skin which included dandruff. This is a great ingredient in hair care products as it not only promotes a healthy scalp and influences hair growth, it also makes your hair follicles stronger.
If you didn't know yet, coffee is used for hair care, too. It can do more than keep you awake. It helps stop hair loss and promote regrowth and it also promotes softer and shinier hair. 
Pink Swirl Rice Water Strengthening Protein Treatment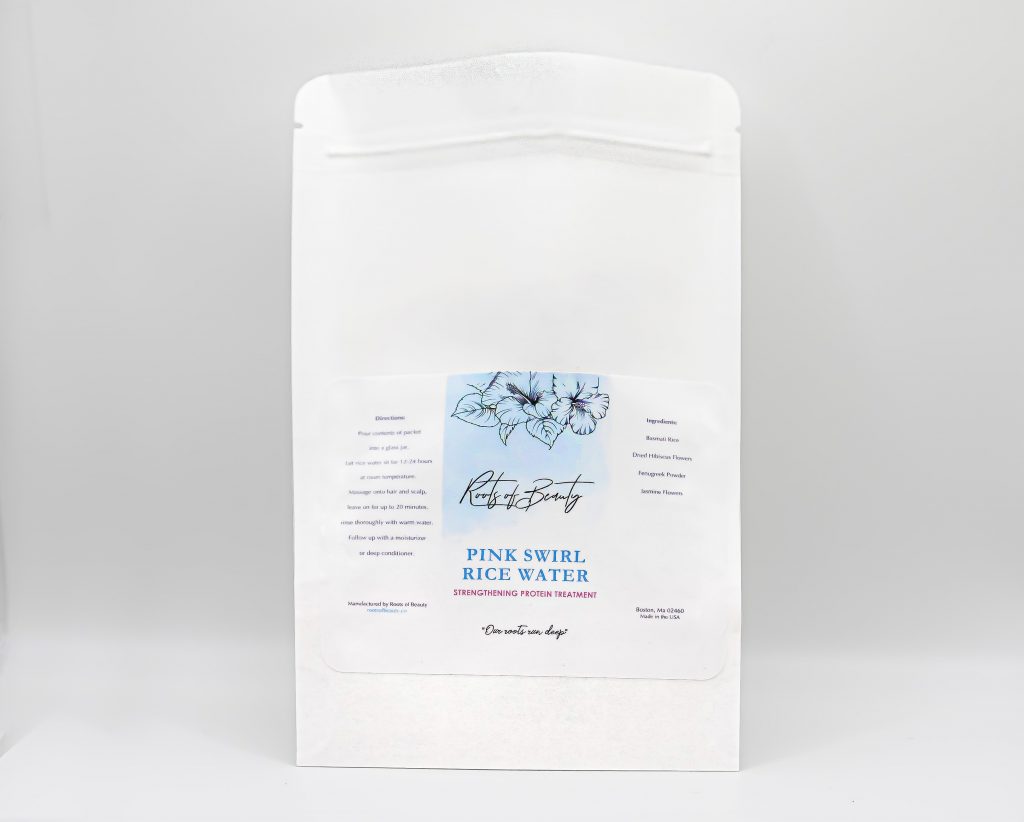 This product is formulated so that you can treat your recently treated hair. Is your hair limp? Have you just recently bleached and colored your hair? Is your hair damaged? Do you have split ends? This strengthening protein treatment is moisturizing and nourishing and will do good things for your mane.
It contains basmati rice, hibiscus flowers, jasmine flowers, and fenugreek powder. A mixture that may be weird for you at first, but will do wonders for your hair. 
Rice water is the secret to healthy and thick hair. Rice grains have high starch content and are rich in amino acids, minerals, vitamins, and antioxidants. When soaked in water, this natural goodness will saturate the water and when massaged to your hair, these ingredients will seep through your hair giving it a punch of healthy and moisturizing properties. 
If you have color-treated hair, a good rice water treatment like this one will revive your hair gradually. It reduces friction, promotes elasticity, and gives you smoother and shinier hair.
Roots of Beauty has an array of promising products made with all-natural goodness that promises nothing but healthier hair. Each product is made with love and extensive research. We've packed each one with potent ingredients known for promoting healthier hair.
Visit our shop to take a closer look at our products.