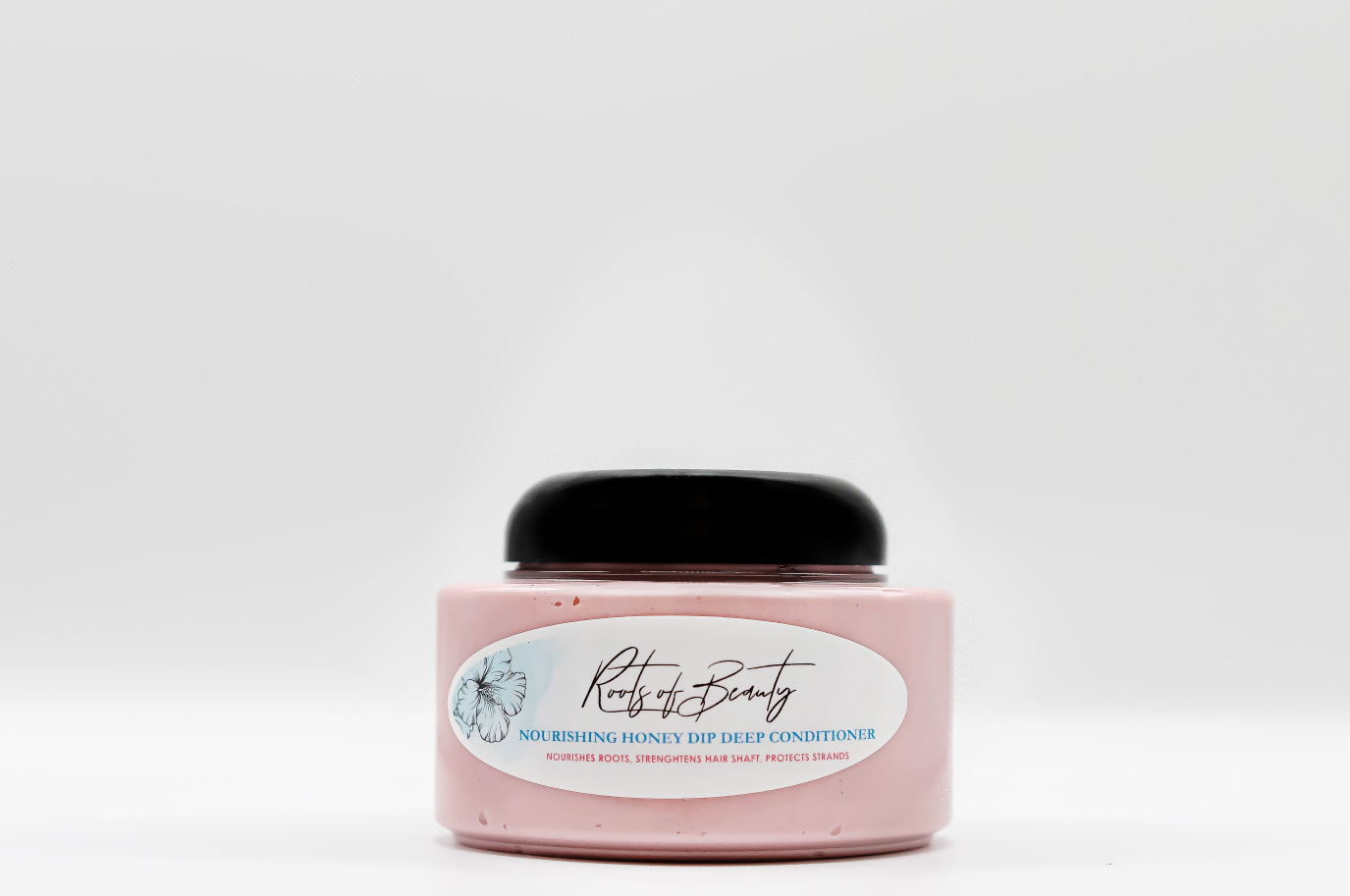 December 9, 2021
The Nourishing Honey Dip Deep Conditioner
The Nourishing Honey Dip Deep Conditioner is Root of Beauty's featured product of the month. It's a conditioning treatment formulated to moisturize hair strands, repair heat damage, and make your hair look shinier, healthier, and more manageable.

Deep conditioning is even more important when the weather gets colder. This is the time when your natural hair suffers the most because of the change in temperature. Wind and cold air suck the moisture out of your hair and cause tangles. And when your hair experiences dryness, the frizziness accelerates as well as hair breakage and split ends. Extreme weather temperature changes give additional stress to your hair and that is why deep conditioning in fall and winter is important.

Here's a little secret: even if you think your hair is already healthy, deep condition is a great treatment to prevent further damage, gain additional moisture to your hair, and maintain its healthy and shiny look.
Benefits of Deep Conditioning
Deep conditioners like the Nourishing Honey Dip Deep Conditioner are made to hydrate, soften, and provide nutrients and minerals to damaged hair often cause by harsh treatments such as hair bleaching, perming, chemical straightening, and heat exposure that includes the use of flat and curling iron. It helps improve the hair's elasticity as it restores moisture to the strands to make the hair resistant to stretching and tension.

Moreover, deep conditioning is a much-needed hair treatment to prevent it from breakage and further damage. The natural ingredients in these deep conditioners will mend and nourish your hair. This product is intended to be kept longer on your damp hair after shampooing so that the nutrients and healing properties of the deep conditioner penetrate into the hair, and is recommended to be used every 1-2 weeks for best results.
Some Tips For Deep Conditioning
Deep conditioners should be left on the hair for about 15 minutes to an hour, depending on the condition of your hair, to maximize its efficacy. The length of time the conditioner is left on the hair gives it ample time to suck up and absorb the nutrients and hydration that the conditioner offers. 
You can use a plastic cap to cover your hair while deep conditioning and sit under a dryer for 15 minutes. You can also opt to leave the conditioner on your hair for up to an hour without the heat. Some say it's best to apply the deep conditioner while you wash and shave as the steam in the bathroom is beneficial in helping the hair absorb the conditioner better.
When using a deep conditioner, always remember to shampoo your hair first as the conditioner works on clean hair better. When you apply the deep conditioner, start at the tips first working upwards to the roots and scalp. Apply just enough products so that your hair won't feel and look greasy. Use cold water to rinse the conditioner off. The cold water will help close your hair follicles and cuticles so that the nourishing oils are infused on the hair.
When your hair needs extra TLC, you can sleep with the deep conditioner applied to your hair and rinse it out the next morning. Just don't forget to wear a plastic cap to protect your pillowcase.
Making deep conditioning a part of your hair care routine will do wonders for your hair's health. This extra love will make your hair look healthier and shinier, help prevent breakage, keep your hair moisturized, and improve manageability.
Features of the Roots of Beauty Nourishing Honey Dip Deep Conditioner:
No parabens

No sulfates

No mineral oil

No Formaldehydes
Ingredients: Water/aqua/eau, Aloe barbadensis, Hibiscus flowers, marshmallow root, Orbignya oleifera (babassu) seed oil, behentrimonium methosulfate, Butyrospermum Parkii, Persea gratissima (avocado) oil, cetyl alcohol, stearyl alcohol, fragrance, Hydroxypropyltrimonium Honey, panthenol, hydrolyzed wheat protein, vitamin E, phenoxyethanol, Ethylhexylglycerin, and citric acid.